Trains don't just run through an empty landscape, so the scenery (geographical setting) is a vital part of any model railroad layout. Constructing the countryside and cityscape through which your model trains will travel can be tremendous fun. When creating model railroad scenery you need to consider the era, geographic location, and relative prosperity of the area being modeled.
Don't mix eras - putting 1970s building in a turn of the century Western
theme.
Or putting a 1980's Honda model automobile in fifties-era scenery.
Study the architecture of the buildings from that time period.
Find out what kind of shrubs and trees are likely to be found in that area.
Little details can add to the realism to your model railroad scenery. Get model trees that look like native species from your hobby shop or make them yourself.
More details here http://www.modelbuildings.org/background-building-plans.html
Tunnels and a bridge will add interest to your model railroad scenery. Depending on your layout, you may need a rail station too.
You could put operating signals at crossings. Use either a set of crossing flashers or a flasher and drop-arm combo. Kids (and adults too) are mesmerized by these 'lights and action' items.
Other ideas like a working grain elevator, water tower, coal loaders, or a control towers can add interest to model railroad scenery and help complete a layout. Be creative, but specific, with your model railroad scenery.
Amazing Rail Journeys
Weathering Model Trains For Layout Realism
Weathering, is basically the art of taking something new and making it look like something old. It could be locomotive, caboose, a building, a bridge, a tunnel, a road, a fence, or any element of model railroad scenery for that matter. Almost anything ages and changes over time.
For example; when you buy a some rolling stock it comes packaged all shiny, plastic and new. It probably looks too perfect, unreal and out of place alongside the other cars on the track. It may need "roughing up" to make it look used, or at least show some signs of wear and tear.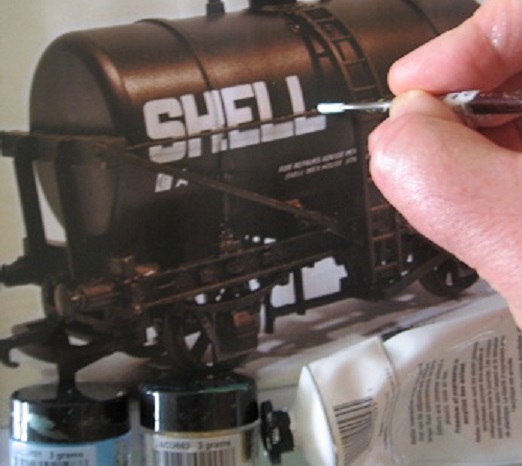 It really comes down to deciding if want to "rough-up" the factory paint job on the very expensive rolling stock you've just purchased. But, like it or not, shiny new cars usually look out of place on an otherwise "used looking" model railroad layout.
In reality; most cars on a railroad show varying degrees of rust, grime (lube and oil), mud, soot, denting, scratches and some are even covered in graffiti. However, cars do vary in age and usage, so they shouldn't necessarily all look the same. And, not everything is dirty, because the contact on bare metal can keep some areas clean.
So, it is a case of thinking carefully about the age and likely wear and tear that you want to mimic - and whether you are prepared to "rough-up" your rolling stock for the sake of adding realism.
Also, think about the region or era you are recreating with your model railroad scenery. Is it likely to be muddy at times or would it be more dusty and arid like in desert scenery? For example, the rolling stock might need a sun-bleached look, which can be achieved with Dullcote brushed over with some rubbing alcohol. This will give the model a kind of a white milky haze. If you don't like it, respray with Dullcote.
Taking The Shine Off Your Model Trains
Shiny surfaces can spoil the realism of any model railroad layout. Shiny surfaces can make model buildings, rolling stock and model railroad scenery look fake as though they have just come off a shop shelf. A simple way to remove that shine is to over-spray the structure or rolling stock with Dullcote (Testors #1260 clear flat lacquer overcoat). Dullcote is available at most model railroad and hobby stores and comes in a small spray can like many other model car colors.
However, always test techniques on something else before you try them out on your prized model train models, because you may not like the effect.
Realistic looking scenery is important on model railroad layouts. To model weeds, hay, straw, and grass get some "binder twine" from a farmer/horse owner. The twine is a natural (unlike the new plastic stuff) material that takes paint/stain well. It also weathers naturally. Hang some outside for a year and it will look like fall weeds, let it lay on the ground and it will get a grayish color. The twine can be cut in very short lengths and used as some ground cover.
Ground Cover For Model Railroad Scenery
Sawdust can be an inexpensive material for making ground cover for your model railroad scenery. Buy some fabric dye from the supermarket or hobby store. Mix up the dye according to the directions and start adding your sawdust.

Keep adding the sawdust until all the liquid is gone. Then put the colored sawdust in a baking dish and put in a warm oven for an hour or so to dry it out.

Once it's dried and cooled, bag it up to store it until you're ready to use it. You can apply it to the ground with white glue and to trees with spray glue or hairspray.
How Do You Build Model Railroad Scenery?
Landscape features like hills, valleys, small canyons, rivers, meadows, mountains and even tunnels can be constructed using a variety of materials, such as foam, plaster, Hydrocal and paper maché. White styrofoam board (also known as beadboard and polyfoam) is a popular material for constructing model railroad scenery. Styrofoam is easy to handle and inexpensive. A 4' x 8' sheet of 1 ½" thick sheet is a good size to work with. It is easily cut and shaped and releases no chemicals or odors when cut.
Using Styrofoam For Making Model Railroad Scenery
It's time to get artistic! Get the hacksaw and electric knife and cut the styrofoam creating a rolling shape. You can make small canyons, valleys and even shape rivers and ponds for your model railroad scenery. Save the scraps and carve them into smaller bumps or rock shapes for use on other parts of your model railroad scenery. Glue the styrofoam together with white styrofoam glue. You can also use a hot wire foam cutter. This can be a big help if you are building a large layout.
The styrofoam can then be colored with acrylic paints or sprinkled with simulated grass to add to the realism of the model railroad scenery. When applying simulated grass, use a clean dry paintbrush to move the grass around. It is best to use a stippling action with the brush. Push it into all the cracks. For best results - don't skimp with the grass.
How To Create Roads For Your Model Railroad Scenery
Roads are usually an integral part of the model railroad scenery. Often the roads are not modeled as well as the other scenery, and when this occurs the entire effect suffers. Yet when you know how, modeling roads is easy, fun and reasonably inexpensive. In fact, you probably already have many of the materials to model a realistic road or freeway.
Trees, Hedgerows, Bushes add To Scenery Effect
Other scenic effects like bushes and hedgerows can be made using similar methods to making trees. Wild flowers can be reproduced by planting short strands of sisal string and painting the tips or applying a small amount of colored fine foam and vacuuming the rest away when the glue is dry.
To increase realism of model railroad scenery consider adding clumps of long grass and weeds sprouting through the ballast and at the bases of buildings etc. Old fashioned carpet underlay (which you can now buy in model shops or at exhibitions specifically for scenic use) is ideal for this purpose. You could also use Heki puff grass.