Model railroading is a wonderful hobby and an excellent way to make friends. There are numerous model railroad organizations you can join where you can meet with like-minded people from all walks of life who share your passion for the hobby of model railroading.
As a member of a model railroad club you'll have the opportunity to share ideas, get expert advice, attend model railroad conventions, build a model railroad as a group project, and even take railroad trips together.
Working alone does have its disadvantages, because often solutions to problems can be hard to find without the input and experience of others.
More info at http://www.modeltrainclub.org/club.html
News from Model Train Clubs
Although we can't feature every Model Train Club from around the globe, we will from time to time give special mention to different clubs and model railroad societies starting with the following clubs:
The Seattle based United Northwest Model Railroad Club has an N scale (1:160) layout. (An N scale locomotive would have to be magnified 160 times to equal the real thing.)
The present 24' x 12' United Northwest Model Railroad Club layout breaks down into modules for easy take-down and transport. For Club Members it has been a work in progress for almost 20 years. The model train club has plans to extend the layout by 12' bringing it to 36'x 12'.
The United Northwest Model Railroad Club layout doesn't follow a particular prototype or era, but instead incorporates the best elements of Pacific Northwest railroading.
The layout has operational DCC on the outside "low line" main. The system is North Coast Engineering.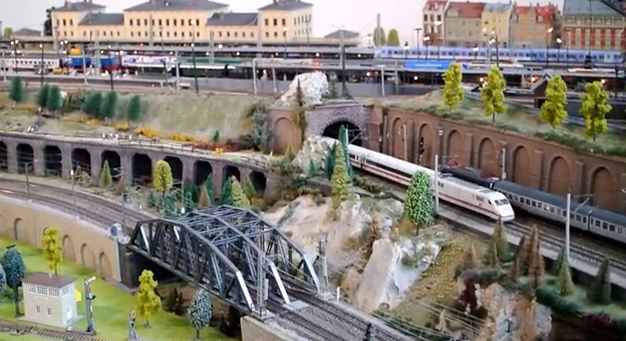 Yard and Engine Facilities - One end encompasses the massive yard and engine facilities, where we build and break up trains.
Mountain Area - The other end is a mountainous territory containing bridges, tunnels, loops, and a valley.
Mainlines - There are two mainlines, one that is known as the "High Line", and the other that is referred to as the "Low Line".
United Northwest Model Railroad Club members usually operate passenger trains on the twisting and grade-filled High Line, and run longer freight trains on the flatter Low Line. The model railroad layout also has a host of other smaller switching opportunities to keep everyone busy and entertained.
Mobile
Railroad Layout
The Eltham Model Railway Circle (Melbourne, Australia) was formed in 1980 and started with a small end to end layout. The model railroad has progressed to a fully operational layout. By the Mid 1990's the club began construction of an exhibition model railroad layout. The exhibition layout had it's first public Showing at the Strathmore Model Railway Exhibition in August 1999.
The Eltham Model Railway Circle now has a large permanent layout as well as an exhibition layout called "Layout Murranbilla". Layout Murranbilla is 20ft long by 8ft 4inches wide. The model railroad layout breaks down into 8 modules, each 5ft 10 inches in length and 2ft 6inches wide. The legs are made from tublular steel that are fitted into larger square tubing screwed into each corner.
The model railway layout is built on the open type timber frame, with decking only where necessary for a solid base for the trackwork. Hand holds have been cut into the sides to allow easy carrying.
Power to the track is by way of two commercial battery chargers modified to give a split potential power supply using the two transformers in parallel. This allows the running of one common rail and a common return wire for the whole railroad layout. The controllers were originally purchased from the Melbourne Model Railway Society and were modified by removing the jug style of element from the circuit and replacing this with series connected diodes. This allows for a smoother operation of locos by varying the voltage rather than the resistance.
Enjoyable Rail Journeys

Model Train
Club Makes Home In School
The Echo Valley Railway Guild in Saskatchewan, Canada has its model railroad layout located in the basement of a local school. The club's model railroad layout is a representation of the Crow's nest pass area of southern British Columbia and Alberta. The CP line and the Kaslo and Slocan Railway are modelled.
Ft. Mcleod (Mcleod) is modeled from which the line proceeds around the room passing through Crowsnest, Moyie, Sirdar, Nelson. To do this the line passes under the peninsula and circles twice around the room. The Echo Valley Railway Guild strongly support the hobby of model railroading. It with other model railroaders has taken on the task of producing a regional and two divisional NMRA conventions. The guild opens it's doors to the school children at least once a year. Together with the Regina Model Railroad Club, The Echo Valley Railway Guild have sponsored a model railroad show.
Model Railroad Club Members Share Clever Ideas
As well as working on their own home model railroad layouts, the Prince William County Model Railroad Club members collaborate on an award-winning modular club layout displayed at events in Virginia & Maryland. The club occupies part of the Historic Quantico Depot in Quantico, Virginia where members are building an HO model railroad layout.
The model railroad club has its own website that includes several "how-to" pages with clever ideas like these:
Broken couplers are a problem for many model railroaders and are often caused by hitting the bumpers too hard. This problem was solved by the addition of two small nails just before the bumpers. Placed exactly two and a half ties from the bumper, the nails were inserted so they caught the axle of the car and kept the coupler from hitting the bumper. This not only saved many couplers, but is reported to have also lowered levels of frustration.
Hobby groups in the USA include:
(more clubs listed on other pages)
Nevada:
Southern Nevada N-Trakers, Clark County, Nevada.
North Carolina:
Cape Fear Model Railroad Club Inc Wilmington, Carolina Coastal Railroaders New Bern, Carolina Model Railroaders Greensboro, Hinkle's Lionel Trains Lionel collector and operator in the Charlotte, League Of Non Aligned Modelers Raleigh & Boone, Neuse River Valley Model Railroad Club Raleigh, North Raleigh Model Railroad Club Raleigh, Piedmont and Western Model Railroad Club Valdese, Sipping and Switching Society of North Carolina Raleigh & Boone, Triad Live Steamers 7.5" gauge Live Steam Club Farmington, Waynesborough Model Railroad Club Goldsboro, Wilson Area Railroad Modelers Inc. Wilson, NC.
Ohio:
Burning River 'N' Society Cleveland, C.A.N.S. (Columbus Area N Scalers) Columbus, Carillon Park Rail & Steam Society Dayton, Central Ohio Model Railroad Club Columbus, Central Ohio N-Trak Columbus, Central Ohio S Gaugers Columbus, Cooke Road Train Crew Columbus, Crossroads Railroad Club Vandalia - Ohio, Cuyahoga Valley S Gauge Association Cleveland, Cuyahoga Valley and West Shore Model Railroad Club Olmsted Falls, Greater Cincinnati Garden Railway Society, The Hocking Valley Model Railroaders Lancaster, Janis Junction Model Railroad Club Columbus, Lake Shore Live Steamers Cleveland, North Coast N-scalers, Pittsburgh & Ohio Northern Railroad Club Ada, The Sebring Model Railroad Club Sebring, Swanton area railroad and model club inc. swanton, Travelin' Trainmen of North Central Ohio North Central Ohio, Tri-State NTRAK Cincinnati, Youngstown Model Railroad Club Youngstown, Ohio.
Oklahoma:
Central Oklahoma Model Railroad Club Oklahoma City, Claremore and Southern Railroad Club Claremore, Grenn Country Model Railroaders Green Country Model Railroad Assoc - Oklahoma, Locomotive Operators of Central Oklahoma, North Central Oklahoma Rail Road Club Ponca City, Northeast Oklahoma N Scale Tulsa, Oklahoma O Scalers Oklahoma City - Oklahoma, SouthWest Oklahoma Railroad Association Duncan, Southwestern Live Steamers.
Oregon:
Aloha and Western Oregon Lines HO Model Railroad Club Aloha, Columbia Gorge Model Railroad Club Portland, Corvallis Society of Model Engineers Adair Village, Greater Portland LEGO Railroaders Portland, Over The Hill Live Steamers Chiloquin, Pacific Northwest Division of the Toy Train Operating Society Seattle & Portland, Pacific Northwest Livesteamers Molalla, Rose City Garden Railway Society - Portland, South Coast Model Railroaders North Bend - Oregon, Train Mountain Railroad Museum Chiloquin, OR.
Pennsylvania:
Track2, Allegheny Northern Railroad Club, The AMRS Hazleton, Capital PenNScalers Harrisburg, Carnegie Mellon Railroad Club Pittsburgh, Chelten Hills Model Railroad Club Elkins Park, DARN NTRAK, East Penn Traction Club Philadelphia, GATSME Lines Fort Washington, Great All Saints Model Train Display Pittsburgh, Keystone N Trak model railroad club Kulpsville, Keystone Model Railroad Historical Society Mechanicsburg, Keystone Chapter of European Trains Enthusiasts Marietta, Lehigh Valley Large Scalers Lehigh Valley - Allentown, Lower Anthracite Model Railroad Club - Shamokin, McKeesport Model Railroad Club, Nazareth Area Society of Model Engineers Stockertown, North Penn S Gaugers Lansdale, Penn State Model Railroad Club University Park, Reading Society Of Model Engineers Reading, Southeastern Pennsylvania HO Modular Railroaders Willow Grove, St. Alban's Railroad Fellowship Newtown Square, Strasburg Model Railroad Club Lancaster, Western Pennsylvania Railroad Society Hickory, Western Pennsylvania Model Railroad Museum Gibsonia, Williamsport North Branch Railroad Historical Society Hughesville, Youngwood Historical & Railroad Museum Youngwood, Pennsylvania.
Rhode Island:
Providence Model Railroad Club Providence, Rhode Island Central Railroad Providence, RI Providence.
South Dakota:
James Valley Model RailRoad Association Aberdeen, South Dakota.
Tennessee:
Chattanooga Area Model RR Club Chattanooga, Mid-South Live Steamers Columbia - Tennessee, Nashville NTrak Nashville - Tennessee.
More groups listed on other pages.